article
Operation Chastise was a daring attack on German dams carried out on May 16-17, 1943 by Royal Air Force No. 617 Squadron, flying modified Avro Lancasters, known as "The Dambusters," the aircraft dropped a bomb specially developed to skip along the surface of a reservoir, over the anti-torpedo netting, and into the dam wall before detonating at a preset depth. The squadron subsequently became known as the legendary Dambusters.
The breach in the Mohne Dam four hours after the Dambusters raid in May 1943. IWM (HU 4594) [Via and Enlarge]
According to Hayley Dixon, The Telegraph´s journalist, it was: "A battle of David and Goliath, the 19 Lancasters flew across Europe at low level under the cloak of darkness. The British Government had identified the dams as a target before war was even declared, but had no weapons capable of such an attack. Until the task was given to Wallis, an aeronautical engineer, and he promised that he could make a four tonne bomb bounce across Hitler's defences and detonate against the wall of the dam. Despite serious misgivings the 617 squadron – initially known as Operation X – was formed on 21 March 1943. With less than two months until the dams were full they had no working bomb, no adapted aircraft, no suitable target, and no training flying at low height. The mission was top secret, and despite dummy attacks over Derwent reservoir in the Peak District, only Gibson and a few others knew the true purpose of the crew.
Of the 133 men who left RAF Scampton 53 were killed and three captured. Eight of the original 19 Lancaster bombers were damaged or shot down. On the ground 1,294 people were killed, including 749 Ukrainian prisoners of war based in a camp just below the Eder dam. Some 92 factories were damaged and 12 were destroyed. Several power plants were destroyed or shut down, 8 bridges were damaged and 25 were destroyed."
Graphic: The Dambuster Raid Anniversary. Courtesy from: nationalpost.com [Via and Enlarge]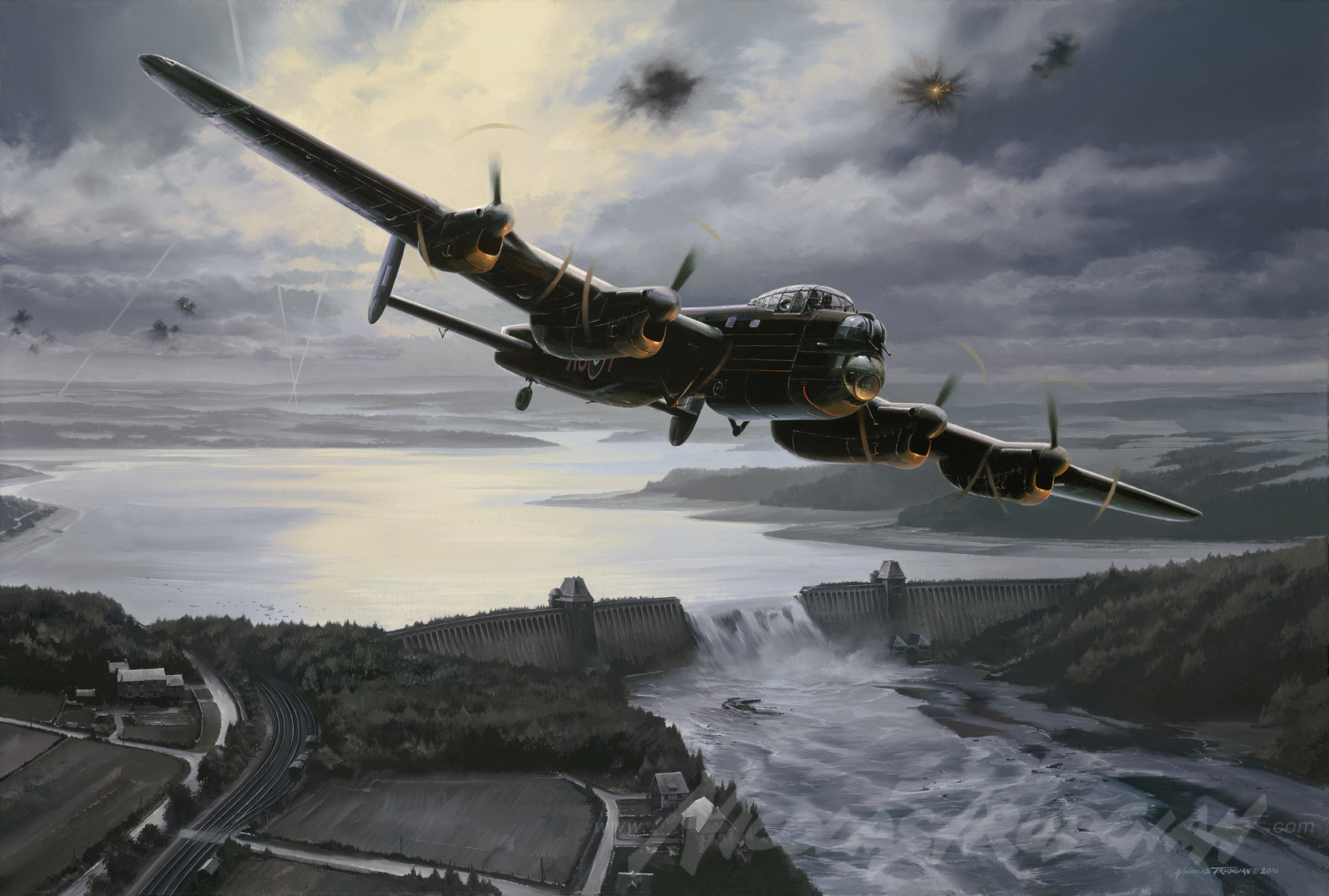 "American Dambuster" Nicolas Trudgian's Print [Via and Enlarge]
Airfix`s Art: The Dambusters Avro Lancaster B.III (Special) [Via and Enlarge]
A Lancaster bomber aircraft from the Battle of Britain Memorial Flight (BBMF) soars over the Derwent Valley Dam in Derbyshire. The famous 'Dambusters' of the RAF's 617 Squadron trained in this valley during the Second World War for their mission. It is 65 years since the Dambusters flew their daring raid over wartime Germany [Via and Enlarge]
Photo shoot at East Kirkby the home of Lancaster NX611 "Just Jane". A very cold but enjoyable day with the highlight being an evening engine run. Just a few from the day.The evening engine run. Dambuster's 70th anniversary. Courtesy from: e-group.uk.net [Via and Enlarge]
Photo shoot at East Kirkby the home of Lancaster NX611 "Just Jane". A very cold but enjoyable day with the highlight being an evening engine run. Just a few from the day.The evening engine run. Dambuster's 70th anniversary. Courtesy from: e-group.uk.net [Via and Enlarge]
Fast facts.- (1) Guy Gibson, 24, received the Victoria Cross and 33 other air crew received decorations for bravery; (2) Lancaster bomber wingspan 102 feet, they flew at 150 feet, final approach 60 feet; (3) Sqn Ldr Gibson: 'This squadron will either make history or be completely wiped out'; (4) 'Bomber' Harris: 'This is tripe of the wildest description... there is not the smallest chance of it working'; (5) Barnes Wallis: 'It is the engineers of this country that are going to win this war.' Courtesy from: www.raf.mod.uk [Via and Enlarge]
Royal Air Force, 617 Squadron. Scampton, Lincolnshire, England, UK. Wing Commander Guy Gibson with members of his crew. Left to right: Wing Commander Guy Gibson, VC, DSO and Bar, DFC and Bar; Pilot Officer P M Spafford, bomb aimer; Flight Lieutenant R E G Hutchinson, wireless operator; Pilot Officer G A Deering and Flying Officer H T Taerum, gunners. © IWM (TR 1127) [Via]
Royal Air Force, 617 Squadron. Scampton, Lincolnshire, England, UK. Flight Lieutenant Harold Sydney Wilson and crew. They did not fly on the Dams raid owing to illness. Left to right: Flight Sergeant Trevor H Payne, front gunner; Pilot Officer Thomas W Johnson, flight engineer; Sergeant Eric Hornby, rear gunner; Sergeant Lloyd G Mieyette, wireless operator; Pilot Officer George H Coles, bomb-aimer; Flying Officer James A Rodger, navigator; and Flight Lieutenant Harold S Wilson. All were killed when their Lancaster was shot down on the night of 15 /16 September 1943 during the raid on the Dortmund-Ems Canal. © IWM (TR 1126) [Via]
Royal Air Force, 617 Squadron. Scampton, Lincolnshire, England, UK. Flight Lieutenant Joe McCarthy (fourth from left) and his crew of No. 617 Squadron (The Dambusters) at RAF Scampton, 22 July 1943. The crew of Lancaster ED285/`AJ-T' sitting on the grass, posed under stormy clouds. Left to right: Sergeant G Johnson; Pilot Officer D A MacLean, navigator; Flight Lieutenant J C McCarthy, pilot; Sergeant L Eaton, gunner. In the rear are Sergeant R Batson, gunner; and Sergeant W G Ratcliffe, engineer. © IWM (TR 1128) [Via]
Royal Air Force, 617 Squadron. Scampton, Lincolnshire, England, UK. Flight Lieutenant Dave Shannon, pilot of ED929/`AJ-L' on the dams raid, with Flight Lieutenant R D Trevor-Roper, who flew as Gibson's rear gunner on the dam's raid; and Squadron Leader G W Holden.© IWM (TR 1129) [Via]
Revell`s Art: Lancaster B.III "Dambusters" [Vía and Enlarge]
To commemorate the recent 70th Anniversary of the Dambusters raid, Simon has produced a most striking and emotive painting portraying the last seconds of RAF Lancaster ED925 AJ-M (Mother) under the command of Flt. Lt. John Vere Hopgood DFC & Bar as he made his ill-fated attack on the Mohne Dam in the early hours of 17th May 1943.​ Hopgood's Courageous Run by Simon W. Atack – © 2013 Simon W. Atack. [Via and Enlarge]
An example of bravery and ingenuity, Operation Chastise was audacious in every way - combining the skill and bravery of an elite squadron with the genius of Sir Barnes Wallis and his bouncing bomb. Courtesy from: i.telegraph.co.uk​ [Via and Enlarge]
Dambusters 70th anniversary of the May 1943 raid – an annotated graphic. https://engtechmag.wordpress.com [Vía]
The raid, carried out by 133 airmen in 19 Lancaster bombers from the 617 Squadron, was an attempt to cripple a major part of the Nazi war economy. http://www.dailymail.co.uk/ [Vía and Enlarge]
The Admiralty and the RAF carried out extensive tests at sites around the country. These revealed that the drum-shaped bomb (codenamed 'Upkeep') needed to be dropped from a height of 60 feet (18m), and at a ground speed of 232mph. The bomb would spin backwards across the surface of the water before reaching the dam. Its residual spin would then drive the bomb down the wall of the dam before exploding at its base. All that was needed now was men to fly specially modified Lancaster bombers which would carry the 'Upkeep'. IWM (FLM 2340) http://www.iwm.org.uk/ [Via and Enlarge]
'The Dam Busters' tells the story of 617 Squadron and its daring and extremely difficult mission, which went on to become one of the most famous episodes of the Second World War. http://media.nationalarchives.gov.uk/ [Via]
Operation Chastise-RAF Attacks on German Dams [Jaglavak Military - Youtube]
The three main targets were the Möhne, Eder and Sorpe dams: (1) The Möhne dam was a curved 'gravity' dam and was 40m high and 650m long. There were tree-covered hills around the reservoir, but any attacking aircraft would be exposed on the immediate approach. (2) The Eder dam was of similar construction but was an even more challenging target. Its winding reservoir was bordered by steep hills. The only way to approach would be from the north; (3) The Sorpe was a different type of dam and had a watertight concrete core 10m wide. At each end of its reservoir the land rose steeply, and there was also a church spire in the path of the attacking aircraft. http://www.iwm.org.uk/ [Via and Enlarge]
Source:
https://www.byrnesonline.ie | www.nicolastrudgian.com | http://news.nationalpost.com/ | http://commons.wikimedia.org/ | http://www.raf.mod.uk/ | http://www.iwm.org.uk/ | https://peoplesmosquito.wordpress.com | http://www.gizzmoheaven.com/ | http://www.telegraph.co.uk/ | e-group.uk.net | http://aviationfineart.co.uk/ www.independent.co.uk | Jaglavak Military (Youtube) | http://media.nationalarchives.gov.uk
Same author contributions