article
Shared by
Chindit
(
0
&nbsp
Lieutenant)
June 06, 2015
Roger Weber, Click on Detroit's journalist, tells us the story about Patrick Mihalek and his team who are determined to get a restored World War II bomber back into the skies. It`s a B-25 Mitchell, the same type of plane Jimmy Doolittle's boys flew in a daring raid on Tokyo on 18 April 1942.
North American Aviation B-25J 44-30733 nicknamed Sandbar Mitchell after it crashed on a Tanana River sandbar near Fairbanks, Alaska in June of 1969. With the help of skilled volunteers and through the financial support of people like you this B-25J will once again grace the skies over America to honor our veterans. Sandbar Mitchell will be restored to honor the men of the 340th Bomb Group, 488th Bombardment Squadron.
The North American B-25 Mitchell was an American twin-engined, medium bomber manufactured by North American Aviation. Used by many Allied air forces, the B-25 served in every theater of World War II and after the war ended many remained in service, operating across four decades.
Aircraft Type: North American B-25J-25 "Billy Mitchell"
Owner:Warbirds Of Glory Museum, Brighton
MIYear Built:1944, Kansas City
Serial Number: 44-30733
Tail Code: 8Z
Code Name: Sandbar Mitchell
Status: Being restored to airworthiness by the Warbirds of Glory Museum
The B-25 has been recreated elsewhere in the digital world as well. Sandbar Mitchell can now proudly fly in the hit game War Thunder thanks to talented 15 year old Matheus G from Brazil. Matheus took a rendition of Sandbar Mitchell and turned it into a flying model for the game. We are glad to see interest in our project from the next generation of warbird caretakers!
"A skin I made to help out the boys who are restoring the "Sandbar Mitchell", a B-25 fire bomber lost in 1969 over Alaska. They recovered the plane in July 2013 and have been working hard to restore her to airworthiness. This is what they intend on painting her like."
(Via live.warthunder.com)
There was a fundraiser Thursday, June 4, 2015 at the Brighton Center for the Performing Arts. For more details, or to donate to the restoration, click here.
On June 4th, 2015 at the Brighton Center of Performing Arts there was a presentation and fundraising event on the recovery and restoration of Sandbar Mitchell.
March, 16 2015: Anthony working hard on disassembling the main control columns of the B-25.
Anthony and Logan are hard at work removing the throttle quadrant from the cockpit of the Mitchell, now that it has been removed and disassembled, the parts have been cleaned, inspeced and are ready for their first coat of primer.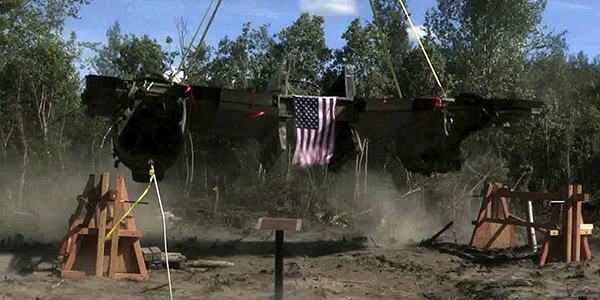 Lift Off Of Sandbar Mitchell
After spending forty-four years resting on the Tanana River Sandbar, Sandbar Mitchell was recovered on July 5, 2013. The aircraft is now under a ten-year restoration to flight worthy status at the Warbirds Of Glory Museum's restoration shop in Brighton, Michigan.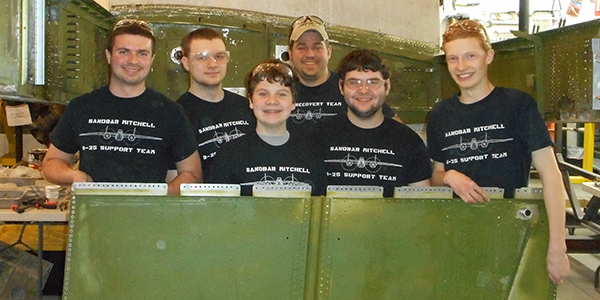 About The Warbirds Of Glory Museum
Patrick Mihalek and Todd Trainor founded the Warbirds of Glory Museum in April of 2013 in the State of Michigan with the primary goal of preserveing aircraft of historical significance, and WWII memobelia for the benefit of present and future generations.
The museum is a public charity with tax-exempt status under Section 501(c)(3) of the United States Internal Revenue Code. Contributions donated to the museum are fully tax-deductible.
Source:
www.warbirdsofglory.org | /www.clickondetroit.com | Voice of America (Youtube)
Same author contributions